Last week we began a new blog series entitled "How to Live as a Citizen of Another Kingdom". Below is the link to part one in case you missed it. https://fbcpowell.org/kingdom-part1/ In the first blog we considered what it meant for Christians to serve as citizens,...
What Kingdom Do You Identify With? Living as a Citizen of Another Kingdom – Part 1 This week's blog is in many ways a new thing for me. It is the first in a 6-part series designed to answer the question – how do we live as a citizen of another kingdom? This is...
I often hear in Christian circles, increasing concerns over the present state of the world and the downward trend of our nation away from God. Christians are stunned by the rapid acceleration towards moral depravity that is blatantly visible. This isn't a new...
We're in the first few days of 2021 – a brand new year – after a difficult and tumultuous 2020. However, as I reflect, my mind is not drawn to last year, but much farther back, even four decades. It's hard to imagine that on this day 40-years ago, 1980 had just ended...
Join the First Baptist Powell ESL Team that serves at Norwood Elementary. We need childcare workers, teachers, and helpers. You do not need to be ESL certified in order to join our team! Classes begin Thursday, August 22. For more information, contact Janice Ramsey at...
One of the results of living in a post-modern age is that the concept of truth has become, to say the least, fuzzy. In fact, the proposition that there exists anything approaching absolute truth is questioned if not completely dismissed. This unwillingness to accept...
A few weeks ago, Tim McGhee announced our premiere initiative for 2018 called Op2Bless. Op2Bless is a call to every church member to, very simply, bless their neighbors by praying for them, listening to them, sharing a meal together, serving them in some capacity, and...
This blog was written in early May. This morning was a major milestone for me. It was the first time I'd run through Powell innearly 10-months after suffering injury. As I ran again outside for the first time, I reflected onwhat it meant to me, and thought I might...
https://vimeo.com/446799836
My Grace is Sufficient 2 Corinthians 12:9-10 But he said to me, "My grace is sufficient for you, for my power is perfected in weakness." Therefore, I will most gladly boast all the more about my weaknesses, so that Christ's power may reside in me. So I take...
Wednesday's word for women
Have you ever been in a situation where God taught you a valuable lesson in an unconventional way? I find myself in these situations often, and it always makes me praise the Lord that I serve a God who is greater than the box I often try to fit Him in. God is able to...
I have been in the habit lately of speaking harshly to my children. I have convinced myself that it is the only thing that works. If I respond calmly and quietly, my kids often times seem to ignore me. But if I yell, with hands on my hips and nose in their faces, I...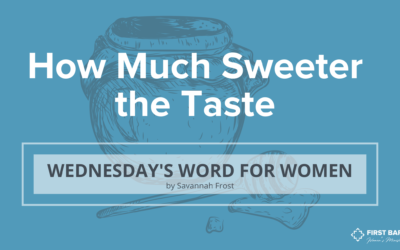 As I moved closer to the dusty, swinging doors, my mind was unwaveringly set on one thing: food. At the time, I was working at a Christian summer camp, getting up early, going to bed late, and doing a couple hundred tasks in between. The work was difficult, and I...